By: Katarina Dos Santos
PRSA hosted its annual international conference, ICON 2022 in Dallas, Tex. from Nov. 11-14. The common theme across keynote speakers and breakout sessions was the importance of diversity, equity and inclusion (DEI) and how PR professionals are responsible for leveraging this message for their organizations. Here are a few takeaways from the sessions I attended. 
November 13: Expand Your Chapter's Diversity and Inclusion Awareness, Activity and Advancement
Our very own, Veronica Figueroa Fernandez, was a speaker on this panel that shared with other chapter leaders how to successfully implement DEI program in their chapters. Veronica, along with two other chapter board members from San Diego and New York City, shared their award-winning DEI programs. A key takeaway from PRSA San Diego Chapter's DEI Chair Arturo Garcia was that, "Inclusion will lead to authentic diversity which will create a real feeling of belonging" within your organization. 
November 13: Opening General Session
The opening session keynote featured reporter and author Katty Kay and NFL legend Emmitt Smith. 
Katty Kay shared about her book "The Confidence Code," and what that means for others to master a confident mindset. Her confidence code includes: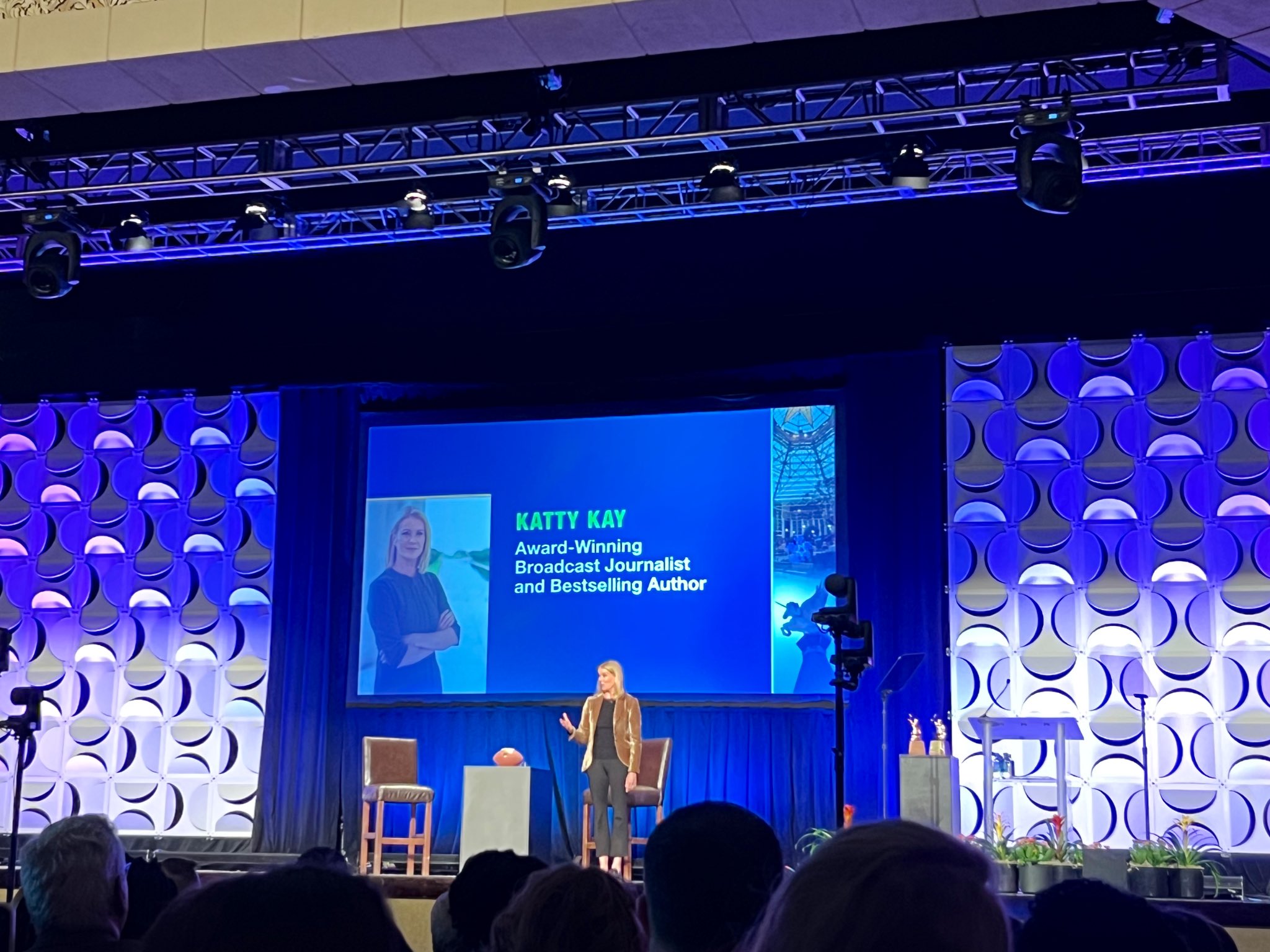 Act more. 

Think less. 

Be authentic. 

Pass it on.
Here are a few additional takeaways: 
"Perfection is the killer of confidence. Give up on the idea of being perfect. The key to confidence is taking risks and being prepared to fail."

"When it comes to success, confidence matters, as much, if not more than competence." 
Emmitt Smith spoke about his successful career and how he was able to elevate his legacy with everything he did. He shared how competition can be healthy because it brings out the best in you or helps you make those tough decisions. To be driven, forward-thinking and make your vision a reality, begin with the end in mind, and make adjustments along the way. 
November 13: Samantha Jones, Olivia Pope and Edina Monsoon – The Cultural Perception of PR
Speaker Brandi Boatner, Digital & Advocacy Communications Manager at IBM, talked about the stereotypes of PR portrayed in Hollywood and how we, as PR professionals can change the narrative and get better at telling our own story. TV shows, such as Netflix's Emily in Paris, have romanticized the profession, whereas TV show Scandal, portrayed PR to be focused on blackmail, murders and lies.
Storytelling isn't a process, method or technique – it's the art of connection. The modern storyteller is collectively a creator, scientist and strategist. As reputation builders, the best PR pros know how to strategically communicate their organization's position to be dynamic and forward thinking. Remember that words matter, relationships matter, reputation matters and timing matters. 
November 14: Unlocking the Power of User-generated Content
Georgia Tech social media managers Evan Atkinson and Steven Norris gave us an in-depth look at how they leverage student's social media posts as content for the Georgia Tech social platforms. User-generated Content (UGC) offers low-cost, high-impact content opportunities for brands of all scopes and sizes. UGC is like digital word-of-mouth advertising that allows audiences to engage directly and provides companies the opportunity to take advantage of conversations around their brands. 
Influencers don't need to be celebrities to make a big impact. In order to mine for UGC, brands must build a strategic community on their social channels that includes customers, brand loyalists/fans, industry and community partners, stakeholders and staff. 
Here is a UGC Checklist to always keep in mind: 
Always ask for permission

Ask the user about being tagged in your post 

Let them know how you plan to use their content 

Check on the posts comments 

If you are planning to use the content in other marketing materials, send the user a release form 
Lastly, make sure your content is reflective of your audience and ensure your platform is a two-way street. When it comes to UGC, you want to mine for it, maximize it and minimize any issues. 
November 14: Communicating with Purpose: ESG, DEI & PR's Role 
This amazing panel featured communication leaders from Panera Bread, UPS and Notified, as they shared the importance of PR professionals being able to provide strategic counsel for purpose-driven communications, such as DEI to environmental, social and governance (ESG) and corporate social responsibility (CSR). 
We can attract talent through stories we tell. 

If the entire organization doesn't stand behind it, it will fall apart. 

Stay accountable to your commitments and be transparent. 

Use ESG reports to create bite-sized content and stories year-round. 

DEI starts with the C -Suite. 

To create a strong narrative, you need both the heart and the head.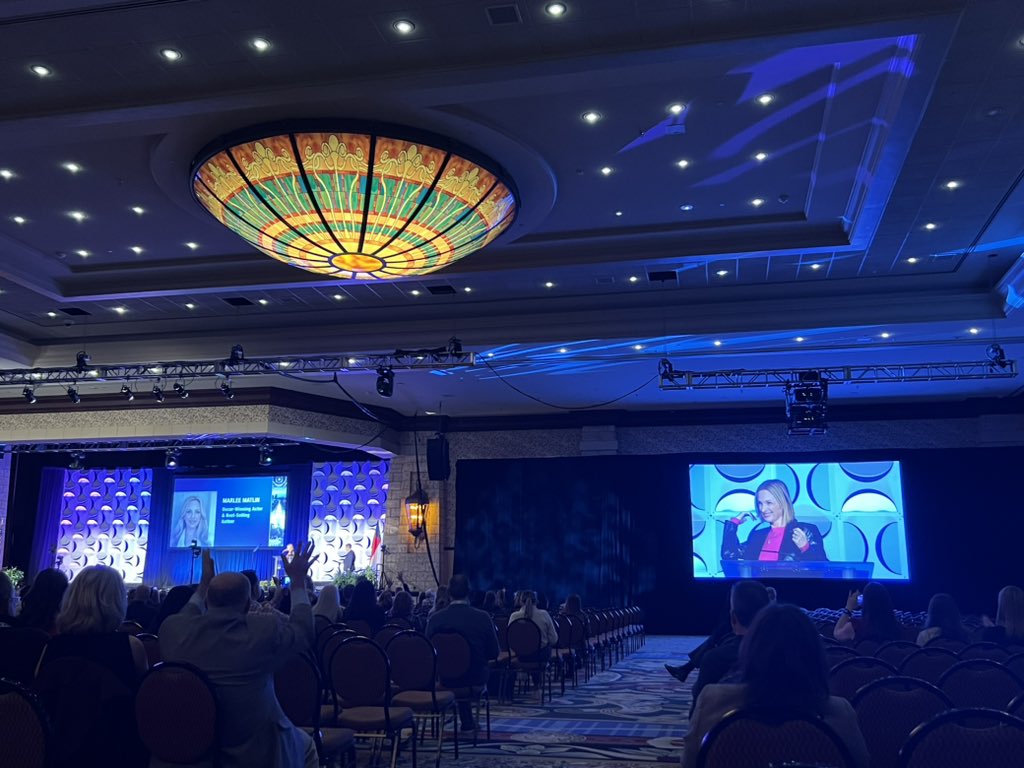 November 14: Keynote Session
Marlee Matlin "took us to church" as she preached the importance of inclusion and the challenges she has faced as a deaf woman. 
Full inclusion supports education, employment and the economy. People are forgetting that disability is part of diversity. Diversity, inclusion, equity and access should be part of the new normal. Her formula to success is: Courage + Dreams = Success
November 14: Five Ways to Integrate Cultural Strategy Into PR Plans
Melissa Vela-Williamson, PR Strategist and Thought Leader at MVW Communications, used her expertise in multicultural communications to share best practices on how to effectively integrate cultural strategy in your PR efforts. 
Understand today's America – be sure to use the right term when it comes to race and ethnicity. 

Leverage culture in PR – Culture can help us connect with others in unique ways. 

Integrate DEI – Diversity allows us to appreciate differences, Equity offers fairness, and Inclusion means to include and leverage. 

Tailor messages to serve multicultural needs – Understand there are diverse communication styles across cultures, languages, generations and educational backgrounds. 

Listen, learn, adjust – Is what you have to say vital or helpful, ensure you are proactive and thoughtfully planning. 
November 15: Engaging Employees through Powerful Storytelling—What Internal Communicators Need to Know
Being able to learn about Amazon's internal communications efforts firsthand from its Sr. Manager of Operations Internal Communications, Laurel Flaningan was one of those powerful moments that you can only get at ICON. I came away inspired and with so many great ideas. 
Laurel shared how Real People + Real Stories = Real Impact – showcasing the power of letting associates tell the company's story through their experiences and empower the staff to use their voice. Think about prioritizing the "what's in it for me" content that's most important to employees. 
Focus your writing style and voice to be short and sweet because employees are busy, and you want to show that you respect their time. In order to further persuade business leaders and tell powerful stories through employee voices and effective writing, patience and data is the strategic approach that will deliver results. 
November 15: Developing Content to Report Out DEI – Telling Your Company's DEI Story
To close out my time at ICON, I spent the afternoon with our very own Jaylen Christie and Bernadette Davis from Bernadette Davis Communications. This open discussion on best practices for DEI reports and insights to help PR professionals plan for their reports. DEI can be very impactful if employees believe their organization authentically supports DEI and feel their ability to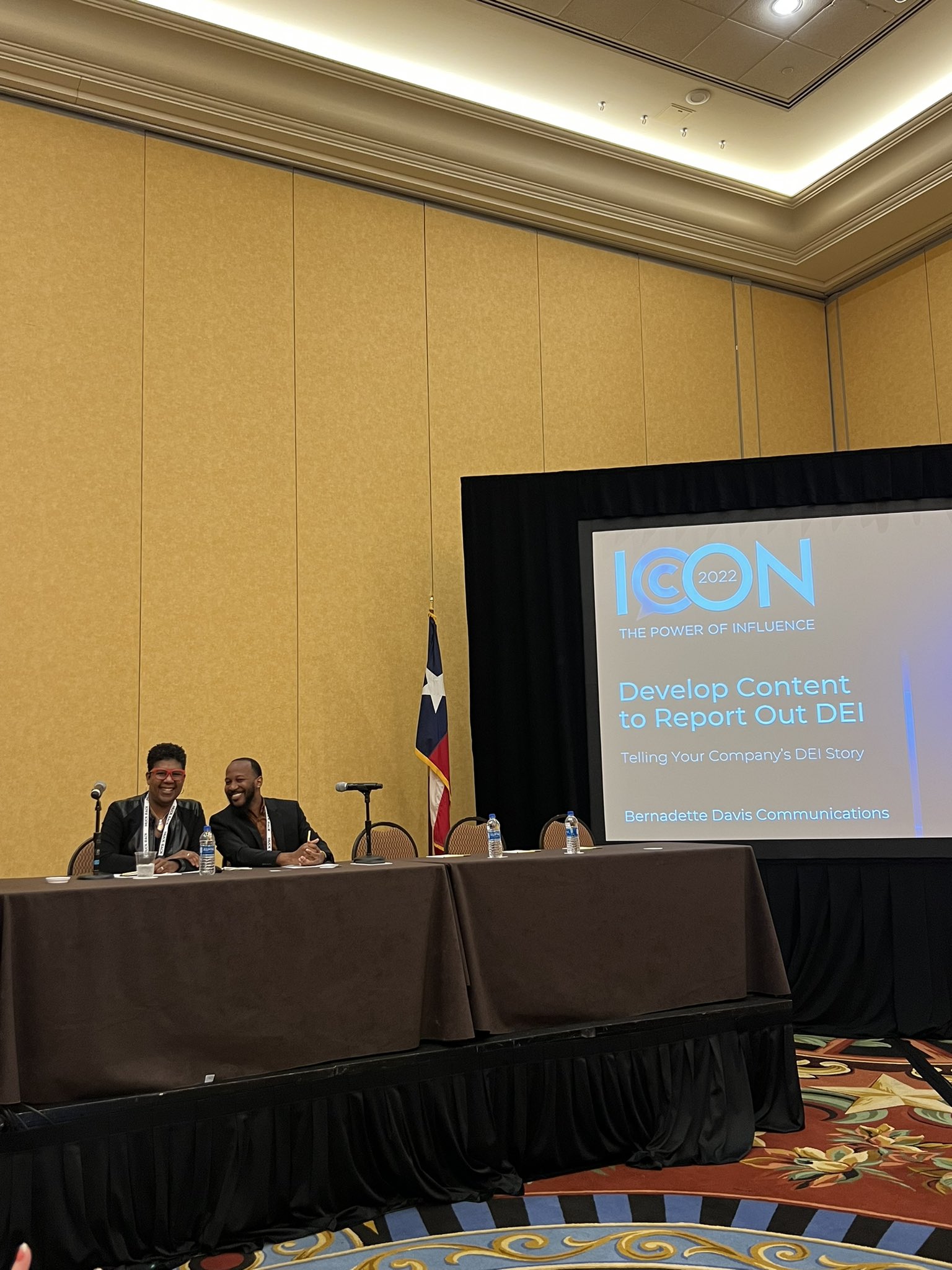 innovate increases by 83%.
DEI shouldn't be separate from business. 

Values should be applied to DEI work. 

How your org acts should reflect those values. 

Your reporting should follow that alignment. 
DEI reporting is one key opportunity to connect commitment to results. Consider timing and nature of reporting when making a commitment. Your DEI report process should include: timing, discovery session, content outline, approvals and plans for next year. 
Some components of a DEI report to consider are talent acquisition, pay structure, inclusive culture, DEI training, and supplier diversity. 
https://prsaorlando.org/wp-content/uploads/2022/12/PRSA-Orlando-at-ICON.jpg
1536
2048
Katarina Dos Santos
https://prsaorlando.org/wp-content/uploads/2022/05/PRSA-40-final-300x108.jpg
Katarina Dos Santos
2022-12-05 09:30:02
2023-03-15 09:53:46
PRSA ICON 2022 Recap